*Trigger Warning – The contents of this article will describe the current conditions of Domestic Violence in our community. It also contains information on local solutions and stories of survivors. 
October is here, and with the changing of the season comes an important time: Domestic Violence Awareness Month (DVAM).
DVAM, observed every year in October, is an opportunity to come together as a community to talk about these issues, to understand them better, to share our resources, and most importantly, to support and stand with survivors. 
This year, United Way's theme for the month is "Every1KnowsSome1" borrowed from the National Network to End Domestic Violence. Domestic violence is a pattern of behavior to maintain power and control in a relationship. It impacts people across all populations, and ALL zip codes. 
Michigan and Lakeshore Data and Information About Domestic Violence in 2021
Each year, the Michigan State Police release the Michigan Incident Crime Report (MICR). Below are some statistics about Domestic Violence for the State of Michigan: 
Survivor Statistics for Michigan (More detailed information in Lakeshore Section)
16.1% of survivors were between the ages of 25 and 29
88 individuals died as a result of domestic violence in Michigan in 2021
Offender Statistics for Michigan: 
48.4% were white individuals, 48.1% were black individuals 
72% were male
18% were between the ages of 25 and 29
Within this report, we are able to break down the data of reported domestic violence incidents in 2021 for Muskegon County: 
1,143 cases of domestic violence were reported in Muskegon County in 2021
Image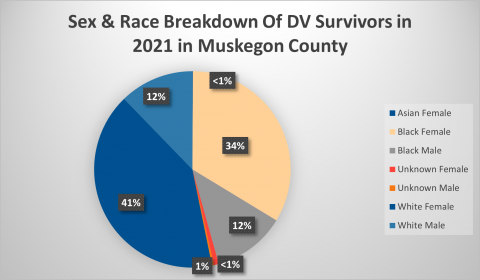 Image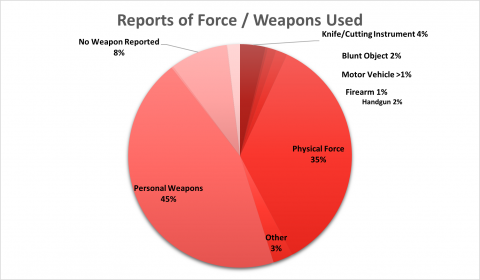 Within this report, we are able to break down the data of reported domestic violence incidents in 2021 for Newaygo County: 
148 cases of domestic violence were reported in Newaygo County in 2021
Image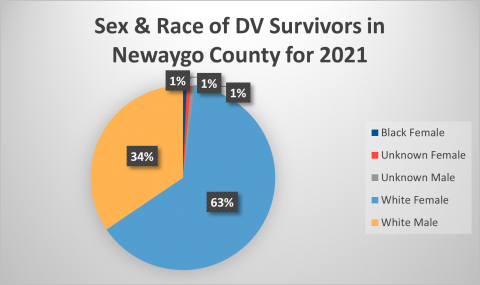 Within this report, we are able to break down the data of reported domestic violence incidents in 2021 for Oceana County: 
254 cases of domestic violence were reported in Oceana County in 2021
Image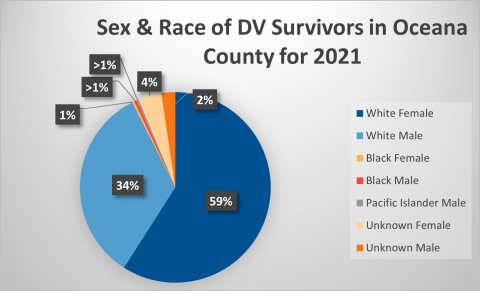 This information is only scratching the surface – 
It is important to remember that the information above only displays the statistics for what HAS BEEN reported. According to the Bureau of Justice Statistics survey (published October 5, 2021), only about half of all domestic violence incidents are reported to law enforcement. 
What Are Lakeshore Nonprofits Doing Around Domestic Violence? 
*In 2021, United Way Funded Partner programs connected 791 families to domestic violence intervention programs, safe shelters, and counseling. 
Communities Overcoming Violent Encounters (COVE)
Communities Overcoming Violent Encounters (COVE) was established to provide shelter, protection, and advocacy to victims of domestic violence and sexual assault while also educating the community about the root causes of violence. For more than forty years, survivors in Mason, Lake, Oceana, and now Manistee counties have turned to COVE in times of need.
As a result of an inadequate support system for sexual assault survivors in Oceana County, a group of volunteers formed an organization formally known as Region Four Community Services. In the beginning, this grassroots volunteer program ran through Community Mental Health and operated out of a donated Department of Social Services building. After the establishment of COVE in 1978, these volunteers created the 24-hour crisis line in that same summer. By 1979, COVE operated out of Hart with a "safe homes" network (private residents offering shelter to survivors for a maximum of five days).
The first "official" shelter, a combination of communal living space and offices, opened in 1981 and continued operating in Hart until 1983. At this point, COVE was providing services to both victims of domestic violence and sexual assault survivors. In order to expand available services while simultaneously expanding the service area, a part time Outreach Services position was added in 1985 to Ludington. By 1988, the shelter facility relocated to Ludington and COVE service area was subsequently redefined by the State of Michigan. As needs in the community continued to evolve in recent years, counselors were hired and our sexual assault services expanded to include a SANE (sexual assault nurse examiners) unit in 2017 in our new building.
Programs Include: 
24/7 - 365 Crisis Support: 24/7 Helpline is: 9-800-950-5808
General Advocacy: Emotional support, safety planning, housing, employment, transportation, financial assistance
Counseling: Domestic violence counseling, sexual assault counseling
Emergency Shelter: 23 bed shelter, food pantry, laundry room, courtyard, and meditation garden
Legal Advocacy: Support with criminal or civil legal issues, assistance with paperwork for PPO's, Divorce, Victim Impact Statements, etc., court support and advocacy with legal system, and legal clinics 
Support Groups: Domestic violence support group, the children's support group, and healing art's support group
S.A.N.E Nurses: 
COVE Sexual Assault Nurse Examiners (SANE) are registered nurses who have completed specialized education and clinical preparation in the medical forensic care of the patient who has experienced sexual assault or abuse.
One component of the streamlined care COVE SANE can offer is the comprehensive medical forensic examination. This exam at it's broadest is composed of the medical forensic history, a detailed physical and emotional assessment, written/electronic and photographic documentation, collection and management of forensic samples, and providing emotional and social support and resources. The SANE also testifies in any legal proceed-ings related to the examination and ensures the proper chain of custody and integrity of the samples is maintained so that the evidence will be admissible in court.
The COVE Nurse examiners will work alongside a COVE Sexual Assault Crisis Advocate and with other disciplines in the community. These may include: law enforcement, crime lab personnel, child protective services, prosecutors and attorneys. These professionals are also striving to assure that the response to a patient who has been sexually assaulted is victim-centered and compassionate, resulting in a successful criminal justice response.
SANE exams are free, confidential and the survivor has the right to determine if they want to report to law enforcement. Exams are available ages 13 and above.
Child Abuse Council for Muskegon County: 
The mission of the Child Abuse Council of Muskegon County is to prevent and treat child abuse and neglect through education, child advocacy, and community collaboration.
Through their programs they serve over 21,000 children each year in Muskegon County.
The end of child abuse isn't a goal or a destination.  It's a process and a journey that they are committed to, every step of the way. They know that child abuse is bigger than any one person, group or organization.  That is why they have taken a collaborative approach.  They work with teachers and police officers, doctors and therapists, social workers and parents.  They work with children.  They are working to prevent child abuse before it starts, to help children who are being abused, and to help heal victims of abuse.
Child Abuse Council Programs: 
Claudia Fairbanks-Kerr Children's Advocacy Center: Children's Advocacy Center (CAC) is a model that supports a compassionate, coordinated community response to allegations of sexual or physical abuse. This means that when a child discloses abuse, instead of having to go from agency to agency telling their story several times, the child is brought to a friendly, neutral facility where their needs come first. Highly specialized staff will facilitate a forensic interview; and if needed, a medical examination. The family advocate will provide information and crisis counseling for parents/caregivers. It is through the Children's Advocacy Center that families will be provided information regarding case tracking, referrals for services, and support from our compassionate and dedicated staff.
At the CAC, they provide: 
Forensic Interviews for Suspected Child Sexual Abuse Victims 
Child Sexual Abuse Medical Examinations 
Child Sexual and Severe Physical Abuse Case Reviews
Non-Offending Parent Support Group Therapy
Therapy for Child Victims 
Court Preparation and Support
Child Sexual Abuse Prevention and Safety Education
Court Appointed Special Advocates (CASA): Their CASA program provides trained volunteers to act as advocates for abused or neglected children.  A CASA volunteer is appointed by a family court judge and sworn in as an officer of the court.  He or she provides the judge with a carefully researched background of the child to help the court make a sound decision about that child's future.  A CASA volunteer can thoroughly examine a child's case, has knowledge of community resources, and can make recommendations to the court regarding what is in the best interest of the child.  While CASAs are independent advocates, they work closely with social service caseworkers and the child's attorney to ensure that each child's voice is heard.
Are you interested in becoming a CASA Volunteer? This link gives a detailed description of what the role of a CASA Volunteer in Muskegon looks like.
Prevention Through Education: To end child abuse, we need to talk openly about a subject that is extremely uncomfortable.  The Child Abuse Council offers age-appropriate prevention through education for children and young adults.  These programs address topics like child abuse prevention, personal safety, conflict management, education on healthy relationships, the realities of teenage pregnancy, and human trafficking awareness.  
They have a range of education programs for adults and professionals.  Their child abuse education program empowers parents to protect their children and it teaches them how to recognize child abuse and neglect and where to find help.  Because they have a comprehensive approach to ending child abuse, they also have programs that ensure professionals are aware of their responsibilities to protect children.
Every Woman's Place (Located in Muskegon): 
Every Woman's Place (EWP) is a dual service agency providing comprehensive services to all individuals impacted by domestic violence, sexual assault, sex trafficking and stalking in Muskegon County, Michigan.
EWP is here for all victims/survivors, without exception.  They are here with both residential and non-residential services tailored to meet your needs and to forge a path with you that extends from victimization through to restoration.  Their staff come with compassion, professionalism and training that make your experience with EWP one of healing, of empowerment and of self-determination.  They are here, for you.
Every Woman's Place Programs: 
Residential Crisis Center: Their residential crisis center provides a place for survivors and their children to be safe in a supportive and non-judgmental environment.  Survivors are able to start the healing process, explore safe options, and receive support from our dedicated staff.
Crisis Intervention/Response: Their crisis intervention system has not only a 24-hour crisis line, but a walk-in crisis center in their emergency shelter. They also have legal advocacy teams, that assist with personal protection orders. Finally they have Domestic Assault Response Teams and Sexual Assault Response Teams that are available 24/7 to meet with survivors through the hospital systems to provide knowledge needed to make informed decisions on next steps of their journeys. 
Counseling: Domestic and sexual violence are traumatic experiences that can have a profound impact on an individual and their entire family. Survivors often speak of the emotional scars that have been created as a result of the abuse. EWP provides free counseling services for adult and child survivors, and for children and youth who have witnessed domestic abuse. They also offer a number of support groups including: Parenting After Domestic Violence; Domestic Violence Support Group; and the Sexual Assault Support Group. 
Education: EWP is committed to sharing resources, providing information, and using their voices to advocate for the survivors in our community. One way they support victims and survivors is by educating others about the effects violence has on individuals, their families, and on our community as a whole. They provide speakers and community presentations, empathy trainings, awareness events, and dating violence education in local schools. 
Legal Aid of West Michigan - Serving Muskegon, Newaygo, and Oceana Counties: 
Legal Aid is a nonprofit law office. They deliver free legal help to  1) people who live in or near poverty, and 2) seniors. They help when civil (non-criminal) legal problems threaten their clients' basic living needs, like food-security and income-security, housing, healthcare access, and safety from domestic violence. Click here to see all of the cases and services they cover. 
Legal Aid Program:
Family Law: The family law's primary goal is to ensure safety and maintain stable family relationships. These lawyers help take on cases including: 
Divorce for survivors of domestic violence
In special circumstances, divorce to ensure income maintenance and equitable property division
Defense of custody for natural custodial parents within divorce, custody, support and paternity cases
Defense of natural parents' rights in minor guardianship
Personal Protection Order representation 
Women's Information Service Inc. (WISE) provides advocacy, safety options, and support services to survivors of domestic violence, sexual assault, stalking, and sex trafficking. WISE empowers individuals and families through respect and equality, and works toward strengthening our communities through awareness, prevention and education. Women's Information Service Inc. (WISE) is a nonprofit serving Mecosta, Osceola and Newaygo Counties by providing crisis intervention and support services to survivors of domestic and sexual violence.
WISE Programs Include: 
24-Hour Emergency Shelter: 
WISE has an emergency shelter. Our shelter services are open to individuals and their children who are fleeing intimate partner domestic violence or sexual abuse. To begin your shelter assessment, call our 24-hour crisis line at (231) 796-6600 or toll-free at 1-800-374-WISE (9473).
24 Hour Hotline: Advocates are available 24/7 to speak with survivors of domestic or sexual violence. Call 1-800-374-WISE.
Advocacy Services: WISE's Outreach Program is designed to serve clients who do not need emergency shelter.
Classes: Throughout the year, WISE advocates lead classes for clients in Mecosta, Osceola and Newaygo counties. Class topics include pattern changing, parenting and general group support.
Domestic Violence/Sexual Assualt Response Team: WISE and our community partners operate the Domestic Violence/Sexual Assault Response Team to serve survivors in all Mecosta, Osceola and Newaygo counties.
What You Can Do To Support Loved Ones and Survivors: 
We often get asked how someone can support a friend or loved one who discloses violence or trauma to them. It can be difficult for a survivor to disclose any part of their experience with others. If someone comes to you for support, start by believing them. You can't take away what happened to someone, but you can listen to them, believe them, and be a source of comfort.
Some things you can say to someone who has been impacted by domestic or sexual violence:
"I believe you." The most important thing to do when supporting a survivor is validate their experience. Let them know you believe them.
"It wasn't your fault." It is essential that a survivor understand they are not responsible for their assault or abuse. Be a supportive voice and remind them that they are not to blame.
"I'm sorry this happened to you." Mindful language is key: let survivors know that what happened was unacceptable, and that you take their experience and feelings seriously.
"Can I help?" Let survivors know you are there to support them without being forceful. This allows survivors power of choice on whether to seek out your help.
"What do you need most right now?" Give the survivor space to decide what comes next; there is no single right or wrong way for a survivor to respond to an assault or abuse.
It takes a lot of courage for a survivor of domestic violence or sexual assault to share their story with anyone. Never underestimate the power you have to affect the course of a survivor's healing journey! The 24-Hour Hotline is always available at (231) 722-3333.
Financial Support: 
Your donation to United Way of the Lakeshores Greatest Needs Fund supports programs at COVE, PCAN, Every Woman's Place, Child Abuse Council, Legal Aid, and others that are ending domestic violence in our community. If your workplace runs a United Way campaign, please consider donating this year. If your workplace does not run a campaign, consider giving, and, click here to donate today. 
Your gift matters and makes a huge difference! Last year, our programs served 791 families in domestic violence intervention programs. Even just $2 a week provides 5 counseling sessions for a survivor.