What is the Dolly Parton's Imagination Library Program (DPIL)?
In 1995, Dolly Parton launched an exciting initiative to benefit the children of her home county in East Tennessee. Her dream was to foster a love of reading among her county's preschool children and their families by providing them with the gift of a specially selected book each month. She wanted children to be excited about books and feel the magic that books can create, and to ensure that every child would have access to quality books, regardless of their family's income. This initiative is now a national and global program managed by the Dollywood Foundation and brought to our local community by United Way of the Lakeshore. Dolly Parton's Imagination Library makes reading exciting and fun for your children! Each month a new, carefully selected book will be mailed in your child's name directly to your home, with no cost or obligation to your family. It is a FREE GIFT, made possible by generous donations to United Way of the Lakeshore. 
How it works:
ALL children under the age of five residing in Muskegon, Newaygo, or Oceana Counties are eligible to participate. Each month, every registered child receives a free, high-quality, age-appropriate book through the mail, continuing until the child turns five years old. Imagine every child having their own library of 60 books by the time they go to kindergarten! 
The single most significant factor influencing a child's early educational success is an introduction to books and being read to at home prior to beginning school. Give the love of reading to a child in your community. Sponsor one of over 6,000 children in Muskegon & Oceana Counties.  
Help us get books in the hands of more young readers! Make a donation today to have it matched by a generous gift from local business and community leader Nichols. They will be matching up to $35,000! This program is free to families with young children in our community. To make this possible, the cost of the books and mailing (approximately $2.00 per month or $25.00 annually) is covered by local funding.  Local affiliates of the Imagination Library have three responsibilities: to pay for the cost of the books, to register the children in their area, and to manage the local database. Through funding by generous donors and facilitated by the United Way of Lakeshore, Dolly Parton's Imagination Library is available in our community. 
Click the tabs to navigate pages:
History of the Program:
Thanks to generous donors like Kathy Evans, the Morgenstern Family, the Muskegon County Great Start Collaborative, Country Dairy, and all those who donated through the Nichols "Matching in March" campaign, we are able to bring this wonderful program to families in Muskegon and Oceana counties.  
Kathy was awarded the Patricia B. Johnson Award for Community Leadership and Innovative Grantmaking in 2014, which included an Impact Grant from the foundation to the nonprofit of her choice. She chose United Way of the Lakeshore, using the funds to help launch the Dolly Parton's Imagination Library program in our community. The Morgenstern children and grandchildren made a donation to United Way of the Lakeshore in honor of Richard and Nancy Morgenstern as a Christmas gift that same year. This generous donation was also used to help establish the Dolly Parton's Imagination Library program. A grant from the Muskegon County Great Start Collaborative rounded out the initial funding to get the Library up and running. With their help, we were able to start a pilot program for children age birth to five in Holton and Muskegon Heights.
In 2017, Nichols generously offered to match up to $25,000 in donations during March is Reading month, raising nearly $50,000 to expand the program! In 2018, Nichols generously offered another match - up to $35,000! Thank you, Nichols, for your continued commitment to our littlest learners.
We are so grateful for the support of those who understand the importance of having this program in our community!
In 2018, Country Dairy generously offered to match up to $5,000 in donations for children enrolled in the Dolly Parton Imagination Library Program that live in Oceana County. Since then, they have continued to be a great partner and support for our littlest readers.  
Logic Model:
The Dollywood Foundation is committed to supporting local Imagination Library programs and communities. One focus of our recent work has been identifying common outcomes for all Imagination Library programs. This will ensure we are all on the same page and provide the best program possible for children and families. These research-based outcomes were identified through reviews of the literature and are considered to be building blocks for lifelong literacy, supported by the research, and aligned with the Imagination Library's philosophy and goals.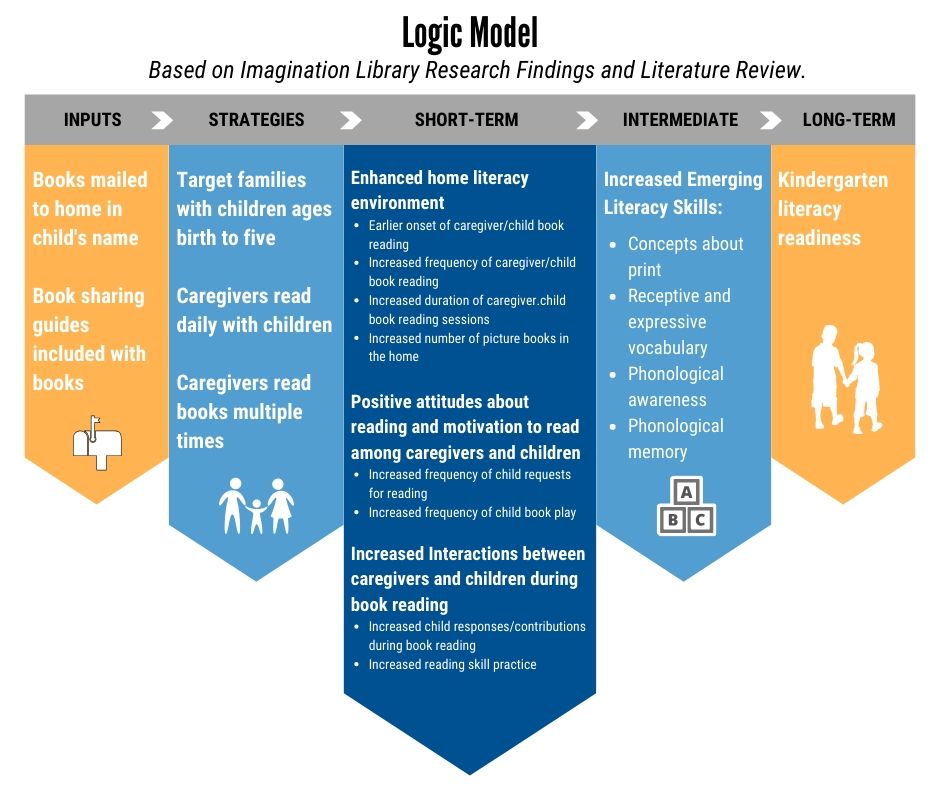 Image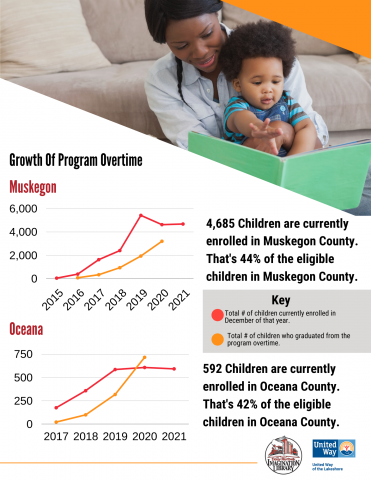 Image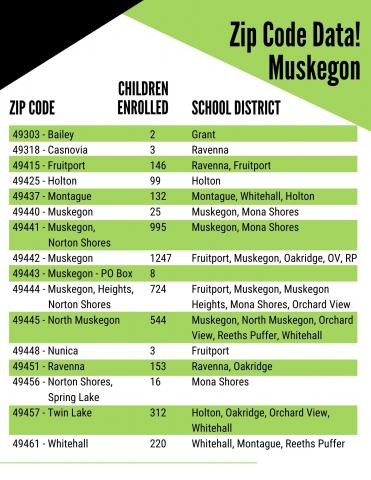 Image