Education, income, and health are the building blocks for a good life. Access to quality health care keeps children on track in school and adults productive at work. United Way's 10-year goal, established in 2008, is to increase by one-third the percentage of healthy youth and adults. This requires that more Americans have access to health coverage and to good primary care from (and even before) birth, as well as the resources to avoid or stop substance abuse and other risky behaviors.
United Way partnered with the Muskegon Community Health Project, Mercy Health Partners, Public Health-Muskegon County, Lakeshore Health Network and Community Mental Health on a 2012 Community Health Needs Assessment for Muskegon, Oceana and Newaygo counties. To read the report, click here. 
Use Tabs To Navigate More Information About Health Along The Lakeshore:
United Way of the Lakeshore partners with SingleCare (formerly FamilyWize) to provide community members with access to affordable prescription medications, ensuring greater health and financial stability. 
The SingleCare prescription savings card:
Always free to use by everyone—just show it to the pharmacist
No registration or eligibility requirements. Use it right away!
Save up to 80% on 10,000+ prescription medications 
Accepted at major pharmacy chains nationwide
Sign up on SingleCare.com for additional member savings (earn $1 per eligible script!!)
Works whether you're insured or underinsured 
Unlimited uses
How do I get a card?
How it works:
SingleCare negotiates fair drug prices directly with major pharmacies like CVS, Walmart, and Walgreens. We pass the savings onto our members, free of charge.
To start saving with SingleCare, a member just needs to show the savings card to their pharmacist every time they fill a prescription at a participating pharmacy. The discount will be automatically applied at checkout.
Members can use their card as often as they want. Cards do not expire. Cards may also be used for family members' prescriptions and shared with friends.
Price Look-up Tool:
Check the SingleCare price on your prescriptions by going to SingleCare.com or by downloading the free SingleCare mobile app. Simply enter the drug name, dosage, and zip code to find the lowest price at a nearby pharmacy.
1 in 21 Healthy Muskegon County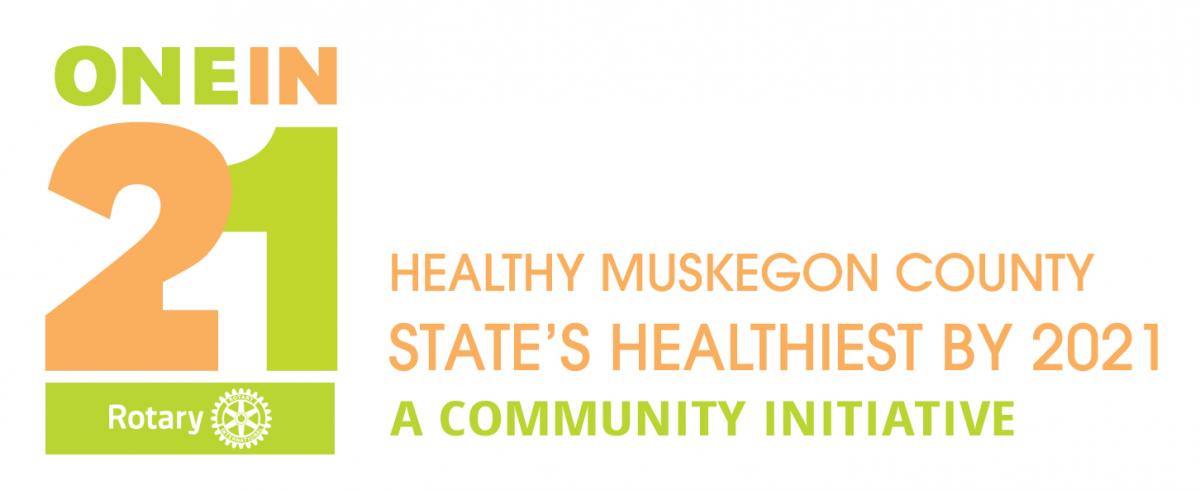 The vision of 1 in 21 is that Muskegon will be the Healthiest County in Michigan by 2021. It is an ambitious goal, but one that can be achieved if we all work together!
The founding partners of the initiative, including United Way of the Lakeshore, were brought together by the Muskegon Rotary Club's Health and Wellness Committee.  In March 2011 a summit was convened to discuss Muskegon County's numbers in the University of Wisconsin's County Health Rankings. After the summit, core values were established to support the common vision of a healthier community:
Inclusive participation and ownership, from all levels of the community
Collaborative, cross-sector leadership and action
Reduction of health disparities
Emphasis on evidence-based, best practice strategies
Efficient stewardship of community resources
Sustainable initiatives and activities
Sub-committees were established to work on the strategic goals developed to make the vision a reality.
Goals:
Reduce Obesity Rates in Muskegon County
Reduce Smoking Rates in Muskegon County
Strategies:
Educate the community on healthy choices
Increase the community's access to healthy choices
Engage the community in making healthy choices
Measure and report successes annually in spring
Public Health 2022 Community Education Services: 
For more information or to schedule services call (231) 724-6350 or email healtheducation@co.muskegon.mi.us.
All services are free of charge.
Botvin's Life Skills©
Program proven to reduce the risks of alcohol, tobacco, drug abuse, and violence by targeting major factors that promote the initiation of substance use and other risky behaviors.
Infant Mortality Prevention
Coordination of Child Death (CDR), Fetal Infant Mortality Review (FIMR), and safe sleep activities on behalf of the County of Muskegon.
Retailer & Vendor Education
Education on reducing the incidence of alcohol sales to minors and intoxicated adults. Includes responsible beverage service TiPS© certification and policy development technical assistance.
Lead Exposure Education, & Case Mgt.
Education and information to prevent lead exposure. Tailored in-home care for at-risk children. Services for families, including pregnant women.
Mom Mentoring
Community-based program for pregnant women and their newborns using mentor volunteers. Provides education and support for both mentor and new moms as well as connection to community resources to assure healthy moms and babies.
Nurturing Fathers©
Evidence-based education program designed to teach parenting and nurturing skills to men. Each 2 ½ hour class provides proven, effective skills for healthy family relationships and child development.
Oral Health Education
Resources for dental services for those with Medicaid or no dental insurance. Information and educational materials is available for families and individuals.
Parent Café© Facilitation
Facilitation of the evidenced based Parent Café© model. Focused on parental engagement and building protective factors at home.
Perinatal Substance Use Prevention Education
Preventing substance exposed pregnancies through provider education and targeted interventions with high-risk groups and service provider coordination. Presentations available upon request.
Mental Health First Aid©
Community-wide training opportunities for Adult and Youth Mental Health First Aid.
QPR© (Question, Persuade, & Refer)
Training that helps people recognize warning signs of a suicide crisis and how to question, persuade and refer someone to help.
PHAT Life©
Evidence-based education program aimed at reducing substance abuse, recidivism, and sexually transmitted infections in young adults age 13-25.
Prescription & Emerging Drug Use Prevention
Preventing drug abuse through parent education, community and school collaboration, as well as reducing access and implementation of techniques that reduce personal and community harms associated with drug use. Presentations available upon request.
Prime for Life©
Education program using a nonjudgmental approach to help people reduce risk for alcohol and drug use throughout life.
SCRIPT© Tobacco
An award-winning, evidence-based program shown to be effective in helping pregnant women quit smoking. Call to schedule a consultation.
Smoke Free Workplace Tobacco & Clean Indoor Air Regulation Technical Assistance
Best practices information for workplaces dealing with the implementation and enforcement of Michigan's workplace smoking ban regulations. Call to schedule a consultation.
Tobacco Vendor Education
Educational information and technical assistance for tobacco retailers on reducing the incidence of tobacco sales and alternative access to youth.
Vape Disposal
Reduce environmental contamination and youth access by disposing of vaping equipment safely. Community residents and school districts only. 
---
Recipients of SA services have rights protected by the state and federal law and promulgated rules. For information contact the Office of Recipient Rights. This publication is supported by a grant from MDHHS/BCBS, ORSC through LRE. Its contents are solely the responsibility of the authors and do not necessarily represent official views of MDHHS/OROSC or LRE.