Content Warning: Please be advised, the below article might mention trauma-related topics that include abuse which could be triggering to the reader. If you or someone you love is experiencing abuse, contact the Domestic Violence Hotline at 1-800-799-SAFE (7233). Support is available 24/7. 
Domestic Violence: A Hidden Crisis in Our Communities
Domestic violence is a pervasive issue that affects millions of individuals and families across the United States. Shockingly, nearly 20 people per minute experience physical abuse at the hands of an intimate partner in this country, amounting to over 10 million survivors each year. Beyond its criminal implications, domestic violence has far-reaching public health consequences that impact the physical, mental, and financial well-being of survivors. It's a problem that not only requires urgent attention but also demands a collective effort from our society. This article explores the health implications of domestic violence, delves into local statistics from Michigan and even deeper into the Michigan Lakeshore, and sheds light on the critical role of nonprofits in combating this issue.
The Health Implications of Domestic Violence
Domestic violence leaves deep and lasting scars on its survivors, affecting their physical and mental health in profound ways. Here are some critical health implications:
Lack of Medical Care: Shockingly, only about one-third of those injured by a partner seek medical care for their injuries. This means that many survivors suffer in silence, without the necessary medical attention to heal physically and emotionally.
Mental Health Disorders: Survivors of domestic violence are at a higher risk of developing mental health disorders such as depression, anxiety, and post-traumatic stress disorder (PTSD). The trauma they experience can have long-lasting effects on their psychological well-being.
Chronic Diseases and Infections: Domestic violence survivors are more vulnerable to chronic diseases and infections due to the stress and physical trauma they endure. These health issues can have lasting consequences on their quality of life.
Enormous Financial Costs: The annual financial cost of domestic violence is staggering, estimated to be in the trillions of dollars. This includes lost productivity, healthcare expenses, and law enforcement efforts to address the issue.
Adverse Impact on Children: Children who grow up in violent homes are particularly vulnerable to both social and physical problems. Witnessing violence at home can lead to emotional trauma and behavioral issues. Moreover, when children learn that violence is a normal way of life, it increases the likelihood that they may become the next generation of victims or abusers.
Local Data and Information from Michigan
Domestic violence is not just a national issue; it is a pressing concern in communities across the United States. In Michigan, recent statistics from the Michigan Incident Crime Report (MICR) shed light on the situation:
There was a 2.9% decrease in incidents of domestic violence from 2021 to 2022 in Michigan.
Survivor Statistics: 

Among survivors in Michigan, 15.4% were in the age group between 30-34.
70.7% of survivors were women.
52.8% of survivors were white, and 42.8% were Black/African American.
Alarmingly, 43% of incidents resulted in serious injuries.

Offender Statistics: 

Among offenders in Michigan, 18.1% were in the age group between 30-34. 
71.1% of offenders were men.
49% of offenders were white & 43% were Black/African American.
Statistics Broken Down on the Lakeshore (Muskegon, Newaygo, and Oceana Counties)
There were 1,665 domestic violence incidents reported to police (1,311 in Muskegon County, 134 in Newaygo County, and 220 in Oceana County) in 2022. Of these incidents, 823 resulted in injuries (51% in Muskegon County, 38% in Newaygo County, & 43% in Oceana County). 
Relationships of Offenders to Survivors
A majority of domestic violence incidents are between dating couples (boyfriend/girlfriends). 28% of all incidents shared a dating relationship. Other high percentages of relationships included parents, siblings, and spouses. See below for a break down of percentages of survivor/offender relationships.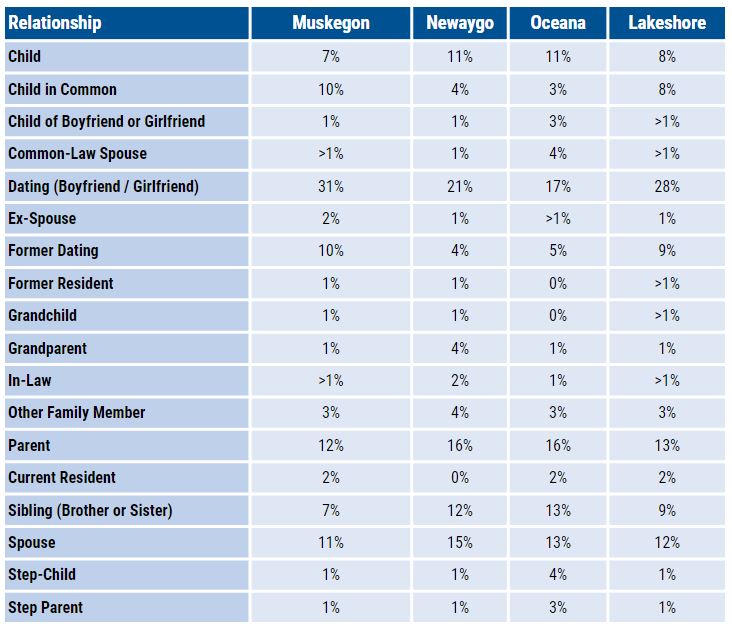 These statistics underscore the urgency of addressing domestic violence within local communities. It is important to remember that the information above only displays the statistics for what HAS BEEN reported. According to the Bureau of Justice Statistics survey (published October 5, 2021), only about half of all domestic violence incidents are reported to law enforcement.
Raising Awareness and Support
One of the challenges in combating domestic violence is that it often goes unreported, and survivors may find it difficult to share their experiences. We must raise awareness and provide support to those affected. October is Domestic Violence Awareness Month, but we need to engage in open and continuous conversations throughout the year.
Supporting Survivors
We often get asked how someone can support a friend or loved one who discloses violence or trauma to them. It can be difficult for a survivor to disclose any part of their experience with others. If someone comes to you for support, start by believing them. You can't take away what happened to someone, but you can listen to them, believe them, and be a source of comfort.
Some things you can say to someone who has been impacted by domestic or sexual violence: 
"I believe you." The most important thing to do when supporting a survivor is validate their experience. Let them know you believe them.
"It wasn't your fault." It is essential that a survivor understand they are not responsible for their assault or abuse. Be a supportive voice and remind them that they are not to blame.
"I'm sorry this happened to you." Mindful language is key: let survivors know that what happened was unacceptable, and that you take their experience and feelings seriously.
 "Can I help?" Let survivors know you are there to support them without being forceful. This allows survivors power of choice on whether to seek out your help.
"What do you need most right now?" Give the survivor space to decide what comes next; there is no single right or wrong way for a survivor to respond to an assault or abuse.
It takes a lot of courage for a survivor of domestic violence or sexual assault to share their story with anyone. Never underestimate your power to affect the course of a survivor's healing journey! The 24-Hour Domestic Violence Hotline is always available at 1-800-799-SAFE (7233).
Local Nonprofits Taking Action
Several Lakeshore nonprofits are actively working to combat domestic violence, providing critical support, intervention, and counseling services. These organizations include:
 
In 2022, United Way Funded Partners connected 1,245 families to local programs and services. 
Domestic violence is not just a criminal issue; it's a public health crisis that affects millions of lives. It's a problem that demands our attention, compassion, and action. By raising awareness, supporting survivors, and backing the efforts of nonprofits in our communities, we can take meaningful steps toward ending domestic violence and creating safer, healthier environments for all. Your support can make a difference – give today. Together, we can make our communities safer and more supportive for everyone.
By donating to United Way of the Lakeshore's Greatest Needs Fund you help fund programs that connect families to domestic violence intervention, safe shelters, counseling, and more. Even a small donation can make a significant impact and provide critical resources to survivors.